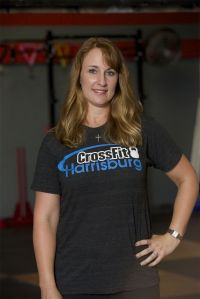 Susan Musselwhite
---
Crossfit L2 Coach
CrossFit Mobility Trainer



Susan Musselwhite is a carolina girl with an active athletic background of softball, soccer, volleyball and basketball. She works as an accountant, lives to be a mother to Riley and is a CrossFitter at heart. Susan's first WOD left her exhausted and nauseated. Not much has changed there, since she first began in July of 2011. Now she is CrossFit Level 2 certified sharing her passion to be fit with everyone she meets!

CrossFit was a necessity as she found herself pre-diabetic with high cholesterol. Within just a few months of CrossFit, Susan got herself out of the danger zone for diabetes and lowered her cholesterol considerably.

Additionally, Susan feels that CrossFit provides a community of like minded people where motiviation, discipline and a sense of humor is valued. It's a community of people that collectively encourages and supports performance and improvement. Lastly, Susan adds, "No matter your weight, age, fitness level or goals, CrossFit is applicable! If I can do it, so can you!"