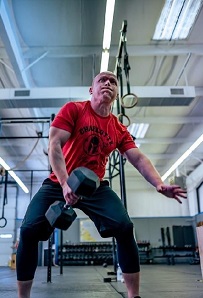 Jon Anderson
---
I am originally from Yorktown Virginia. Growing up I was very active with sports. Spent most of my childhood playing football and being a competitive swimmer.
Moved to Charlotte with my parents when I was in high school. And used sports as a way to make new friends.
After high school and college I spent years not training and just doing life were you just constantly on the run and not taking time to and/or care for yourself. It caught up to me in my early thirties. Realized I needed a change. Started of with weight training and body building. It got me so far before I begin to lose interest do to the fact I was not changing like I wanted. So I decided to spice things up and started Crossfit.
When I first started I was watching other athletes do what I felt was impossible for me. I was so impressed with what they were doing and wanted to be able to do what they could do. So I went all in(Feb 2018). And have never looked back. One of the best decisions I have ever made in life. Followed by the greatest friends/family you can ever meet.
I am a level 1 coach and have been coaching now since January 2021. I am passionate about training and setting goals to achieve. We can help you achieve those fitness goals.
Come join us. Even if you are new to the area, want to find a gym that feels like a 2nd home or want to try something new.
Lets travel this fitness journey together!!!