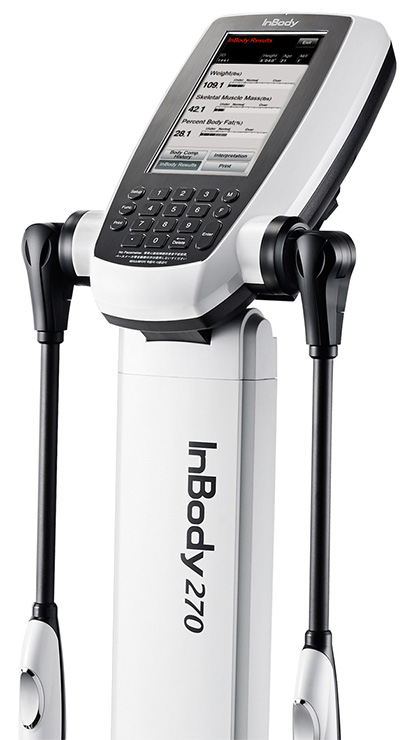 Inbody Body Composition Analysis
The InBody machine gives very accurate measures of body composition. From body fat, to lean body mass, dry lean mass (muscle tissue), and total body water. It measures quickly and non-invasively in under 1 minute, and is accurate within over 98% of the DEXA, the gold-standard in body composition analysis. We'll spend time with you going over the results sheet, explaining what everything means and how to interpret at the data.
Body composition analysis is essential to completely understand health and weight as traditional methods of assessing health, such as BMI, can be misleading. Going beyond your weight, body composition analysis breaks down your body into four components: fat, lean body mass, minerals, and body water.
InBody measures your body composition and displays it on an organized, easy-to-understand result sheet. The results help you understand where your fat, muscle, and body levels are at and act as a guide to help you achieve your goals: whether that is shedding a few unwanted pounds or a complete body transformation.
Body composition is used to describe the percentages of fat, bone, water, and muscle in human bodies. Two people of same sex and body weight may look completely different from each other because they have a different body composition.
Body composition and growth are key components of health in both individuals and populations. The ongoing epidemic of obesity in children and adults has highlighted the importance of understanding body fat levels for short-term and long-term health. However, other components of body composition also influence health outcomes, and its measurement is increasingly valuable in clinical practice.
Contact Danielle today to set up your program:
Email
danielle@crossfitharrisburg.com
CFH Members: $20 ($35 for 2 scans)
Non Members: $25 ($45 for 2 scans)