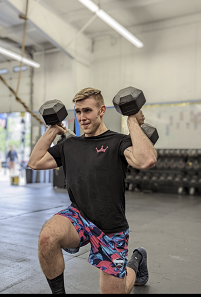 Brendan Calvert
---
I am originally from Michigan but moved to North Carolina to become a police officer with CMPD.  I love spending as much time as I can outside.  I've had my Level 1 Certificate for 4 years and power lifted competitively in high school.  When I was introduced to CrossFit by my cousin as a freshman in college I was hooked and never looked back.  I place an incredible amount of value in fitness because it's necessary for a healthy mind, body, and soul. 
I also like that CrossFit delivers me a large helping of humility daily. 
I took a break from coaching for a short time but realized that I missed sharing my passion for fitness with others.
Look forward to meeting all the member!