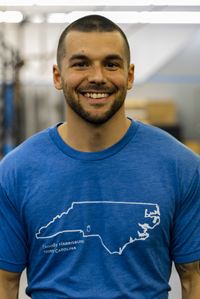 Blain Turner
---

Blain Turner programs and coaches our Rock Body classes, trains individuals one on one, and works as a firefighter for the town of Harrisburg. He has two children, Shane and Reese, with his wife, Lauren and all can be found at CrossFit Harrisburg on a Saturday morning!

Blain found his passion for CrossFit after the end of his college baseball career left him feeling like something was missing. Not only does he enjoy the challenge of each WOD, but he takes pride in helping others learn new movements and reaching their goals physically and mentally.

Blain's background in baseball and firefighting contributes to his "team" mindset which means that no one is left behind in a workout or class. He is committed to finding movements that fit your physical ability and scaling the WOD to a point that is challenging but doable for you. He really values that family community that has been created at CrossFit Harrisburg – members have a friendship outside of the gym, older kids can participate in CrossFit Kids or Teens and even the youngest can hang out in the playroom during the workout.

He believes that when you invest this time in yourself you will feel the impact in other aspects of your life as well.